Fast, InMemory, pure c# (without SQL), Extendable Database for your Unity 3D in-game data with export/import to Excel and Google Sheets
Version:
1.3
Unity Asset Store:
Unity Forums: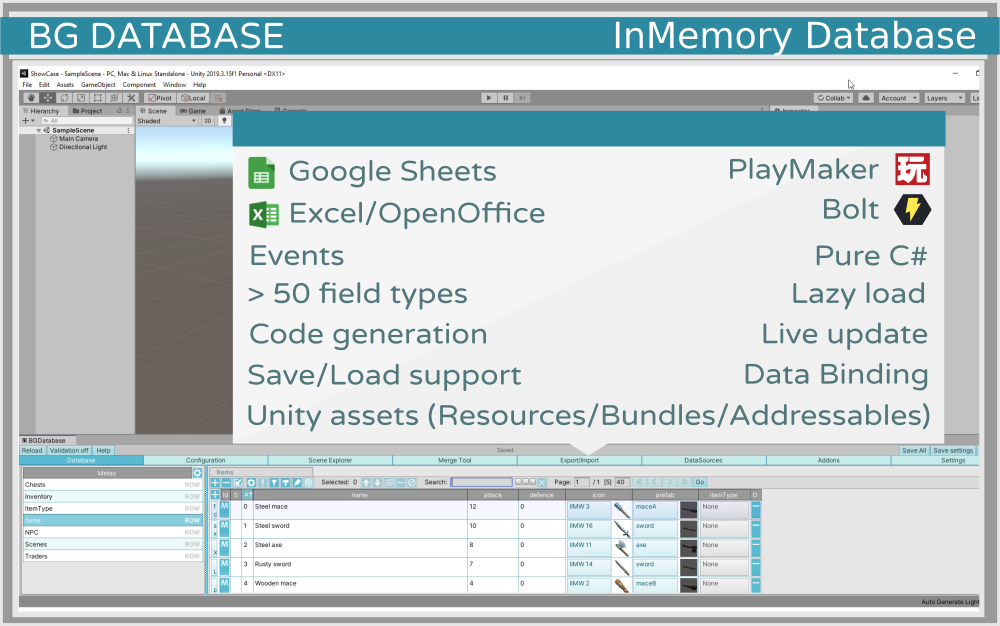 Features
Fast, In Memory, pure C# ( without SQL) database fully integrated into Unity 3D
Selective import/export from/to Excel/OpenOffice and Google Sheets (some restrictions apply)
Selective Save/Load during game session
Lazy loading
Powerful Code Generation
Flexible event system
Playmaker support
Hook up any GameObject to table row by adding a component
Over 50 field types, including relations and nested tables.
Support for loading Unity assets from Resources, AssetBundles and Addressables system
Ability to create your own field.
Runtime (playmode) changes saving.
Live update from Google sheets
No runtime dependencies, dll size ~250Kb (0.2Mb).
Multithreading is supported with multithreading addon. Some restrictions apply. Read more here.
BGDatabase is a client-only database, which run in Unity only, it is not meant to run in any server environment
Roadmap
Features, which are currently under development.
Visual Node-Based graph tool to process database data (to replace our templates and more)

[task added: 2/10/2018, State:Planned ETA: not defined yet]